We've spent most of the past six years remodeling, and then re-remodeling, our house. It's been a chore, in part because we are trying to walk that fine line between re-sellable added value and money-pit-over-improvement. We've tried to be good stewards of this home, knowing that it won't be ours forever, but ultimately, some cosmetic issues will be left to the next owners.
I live in a traditional Georgian-style home, and the floorplan nods to the yesteryear. This is our toy-free, tv-free "formal" living room, which we use often for entertaining, and for quiet evenings of conversation or reading. I love the lack of clutter, the crisp plantation shutters, the beautiful natural light during the day, and the intimate lighting at night. The room measures 17 x 18 and is reliably the
only clean
cleanest space in my house.
The two sofas are from Mitchell Gold + Bob Williams
Chester Collection
and are covered in a chocolate brown velvet. They were definitely investment pieces, but I love them and consider the brown a neutral backdrop for the blue, gold, and copper accents throughout the room. I had originally wanted
these
from Restoration Hardware, but they didn't have the right color fabric for me. I then learned that MG+BW designs and makes some of the furniture for
RH
,
PB
,
WS
, and
C+B
, and that you can buy similar designs, with more fabric options, for less money, directly from them. Yay!
The crackled blue occasional table is a Chinese antique reproduction from
Four Hands Home
, which is an excellent source for eclectic occasional pieces. The
glass lamp and shade
are from Restoration Hardware.
Have I mentioned my love of
hydrangeas
?
I designed the oval ottoman myself after not seeing anything I liked in retail. I chose a fabric I liked and found a local carpenter and upholsterer to make it for me. It is absolutely my favorite piece in the room, and it cost me less than $300 in labor and materials. Plus, even after six years, it is wearing well and is totally child-proof.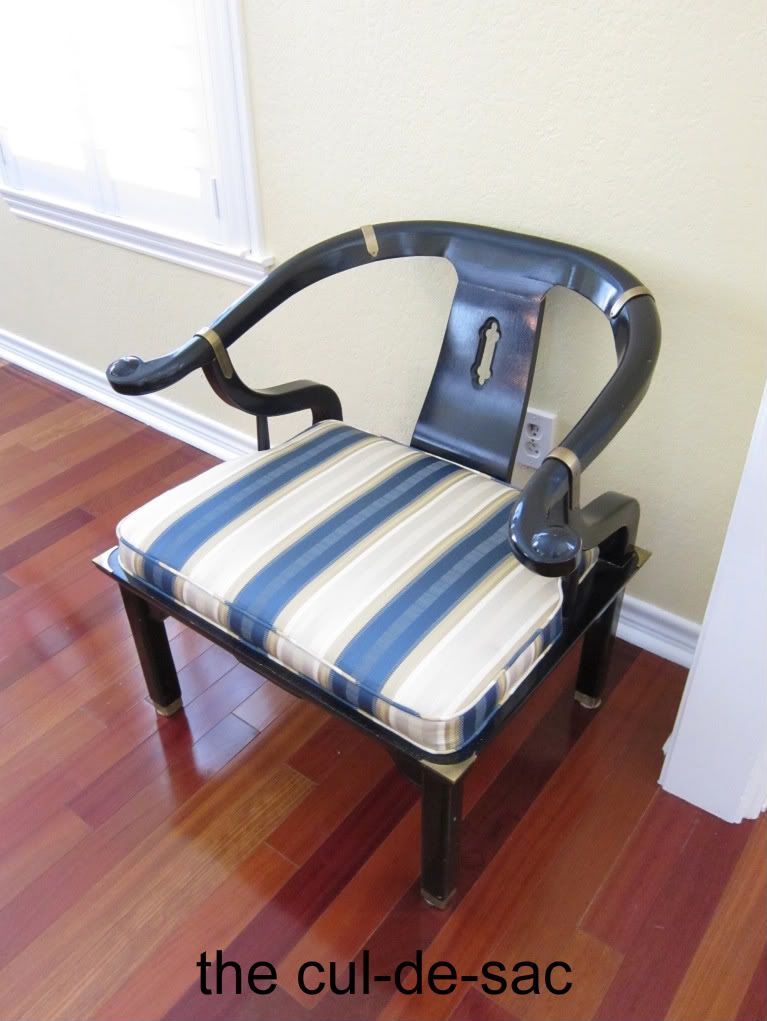 The rattan and glass console table and the blue and white lamp are more Asian-inspired hand-me-downs from my mom.
The photograph of the blue and green hands is called
The Blanket Weaver
and was taken by photographer
Greg Davis
in Vietnam.
The brown and copper striped silk chair in the corner was purchased on clearance at a
Henredon
truck sale. I heart truck sales.
The mirror is a clearance purchase from
Z Gallerie
. It reflects light from my dining room chandelier and the colors of the painting on the opposite wall.
The large abstract painting is an original by designer and artist John Kapla. It picks up all of the colors in my house beautifully and has hints of copper metallic, which I especially love.
The floors are solid Brazilian Cherry; the paint color is Restoration Hardware's Butter; and the plantation shutters are Hunter-Douglas via Costco, all of which I use throughout most of my home. And the jazz-themed art in my entry is a silk-thread-on-leather-canvas piece from West African artist
Salomon M'Bala
.
You'll notice there aren't any plants or many knick-knacks --- remember, I have three small children. At this point in my life, finishing a room with accessories is secondary to my kids' ability to run through the house without knocking things over. ;-) That said, I do need to accessorize the walls and tables better --- it's definitely a work in progress. How do you balance elegance with kid-liveability in your home?
(Sharing with
No Minimalist Here
,
Savvy Southern Style
,
Saved by Suzy
and
View Along the Way
)