It's good that I have a tranquil
living room
in my home, because, in contrast, this is my family room on a typical day: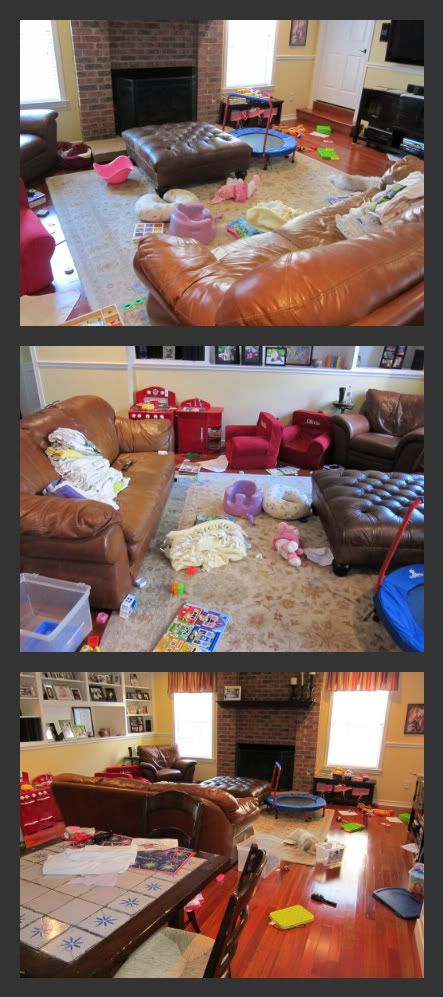 Toys everywhere, glitter glue on the floor, furniture askew, windows lovingly cleaned by my two-year-old with hair detangler spray. Clutter central. Can you even spot the dog sleeping on the rug? And yep, that is a trampoline in the center of the room. Why would I have a trampoline inside my house, you ask? Well, we originally purchased it as a physical therapy aid for one of my daughters, and it has remained in the center of the family room because it is too big to get through any of our doorways without disassembly, which we are too lazy busy to do.
I am embarrassed by this mess. I fear that a neighbor might drop by unexpectedly and judge me by this mess. So I try, every night, to clean up. But the best I ever can do is this:
There's still too much clutter. And the furniture is in desperate need of replacement, a step I am unwilling to take until my kids are out of the decorate-the-furniture-with-contraband-markers phase. I get sad that my family room will never look like
this
room or
that
. And then I remember, my real life isn't a styled photo shoot. It's messy and loud and filled with kids laughing and playing and dancing and creating. Maybe someday I'll find the time, energy, and inspiration to redesign the space to be beautiful and functional. More likely, I'll just give up and move to another house! Indeed, we do plan to move in the next year, and Item #1 on our Wish List is a third living area --- a playroom/gameroom --- for all of the kids' stuff. I'm already dreaming of the possibilities:
Do you dream of kid clutter containment, too? Or do you already have it mastered? And does anyone else wanna 'fess up having a trampoline smack dab in the middle of their family room?
P.S., 2013: I finally got fed up with the clutter and moved! And I did create a separate playroom for my kids. You can check it out
here
! :-)